With our vacation to France, and addition of Mr. Hobart to our family, we haven't had a ton of time to work on the layout.  Here's a few photos documenting what we've been up to:
Mr. Hobart himself: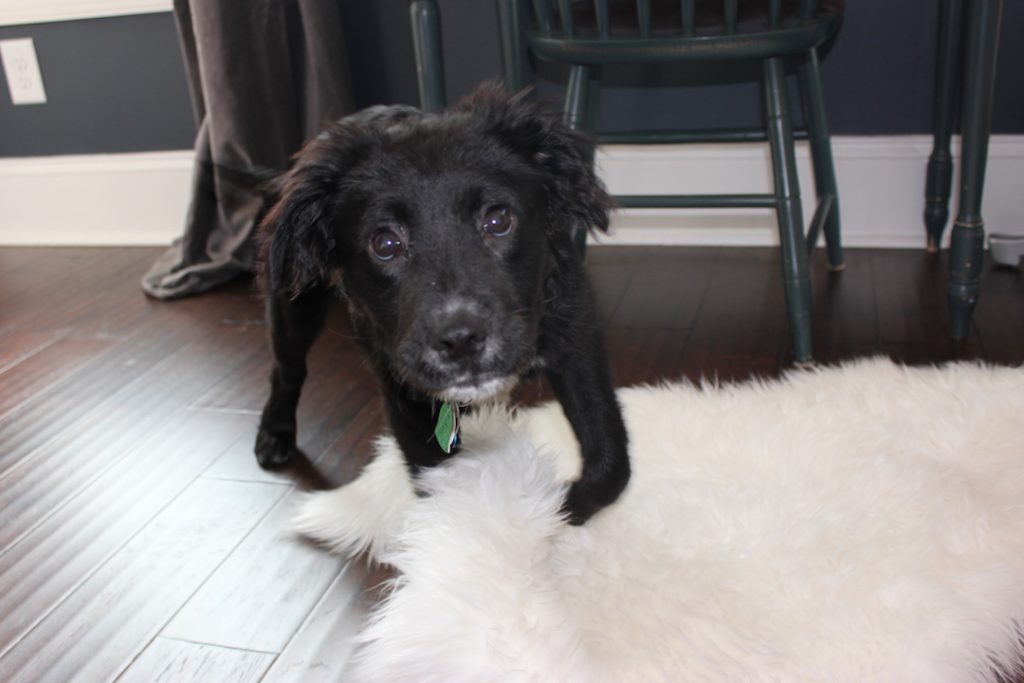 While Hobart is certainly a very sweet boy, he is nonetheless a puppy and one of his favorite activities is to abscond under the train table and look for things to chew on.  As a result, I've had to block access under the table.  Initially this was done with boxes and plastic container lids, but when I had time the other week, I built another "mini" shelf to block off the corner.  Conveniently, the width of shelf fits Premier 18″ passenger cars perfectly: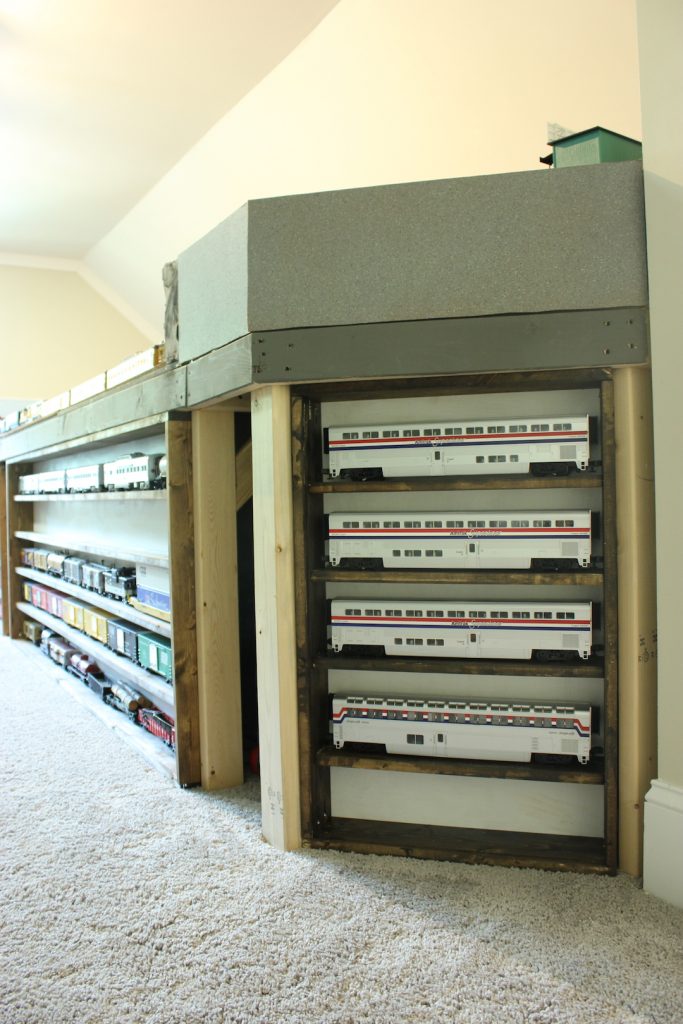 For the small gaps, my plan is to use some spare plywood and either stain or paint it – I'm also considering small skirts, but I'm not sure that will deter the little terror from going under the layout.
After a meltdown (literally), I had to ship back my GP38-2 back to MTH for repair – it's unclear what happened, but while on the track and powered up, the locomotive sounds started up on their own (despite being on a DCS-enabled track), then began distorting, then for the finale, a bit of acrid smoke leached out, and the locomotive shorted.  It took a few months, but the locomotive has been returned to operation and is working better than ever: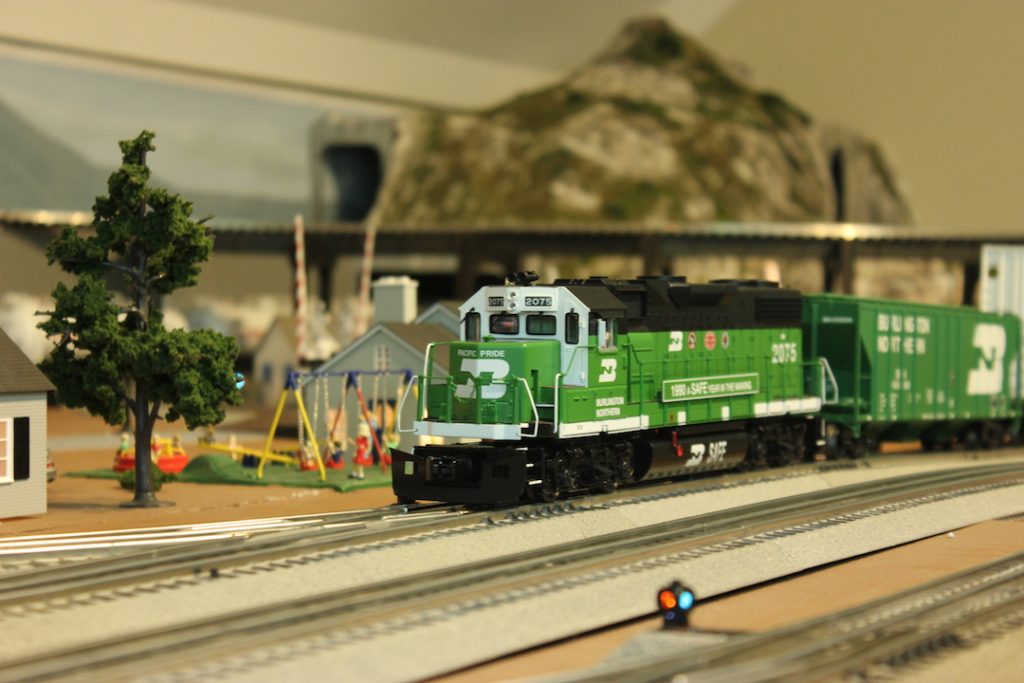 I'm still running the UP excursion train on the main 1 – I have a UP RPO car waiting for me at Legacy Station, I just haven't had time to drop by to pick it up.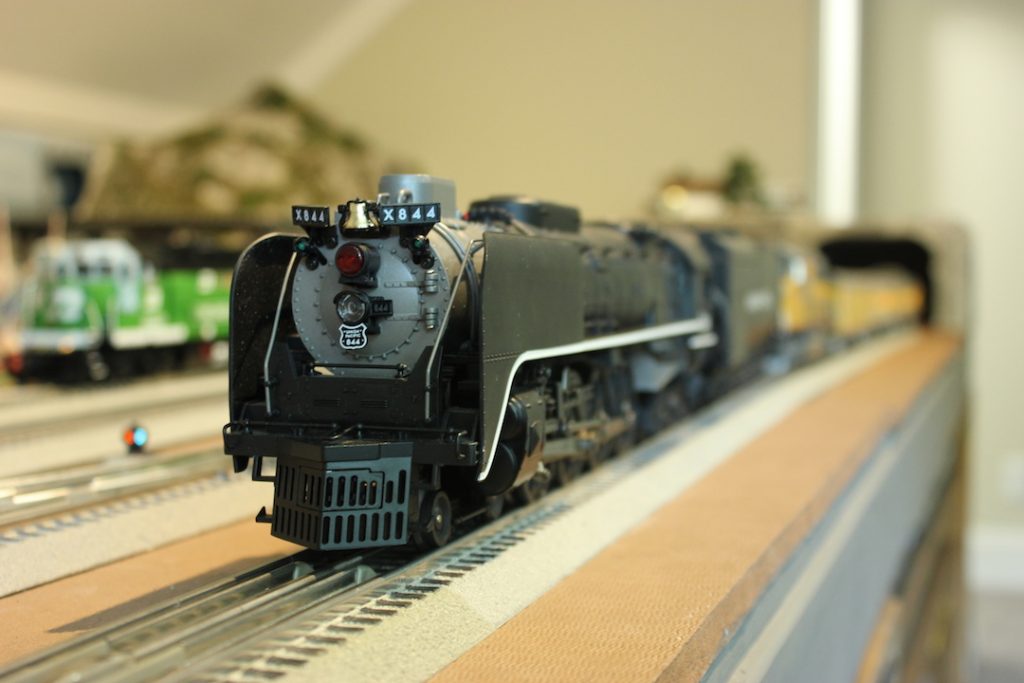 Lydia desperately wanted the Woodland Scenics post office, so we picked one up at Legacy Station and I got the buildings on the second level wired up – next up I need to wire up the street lamps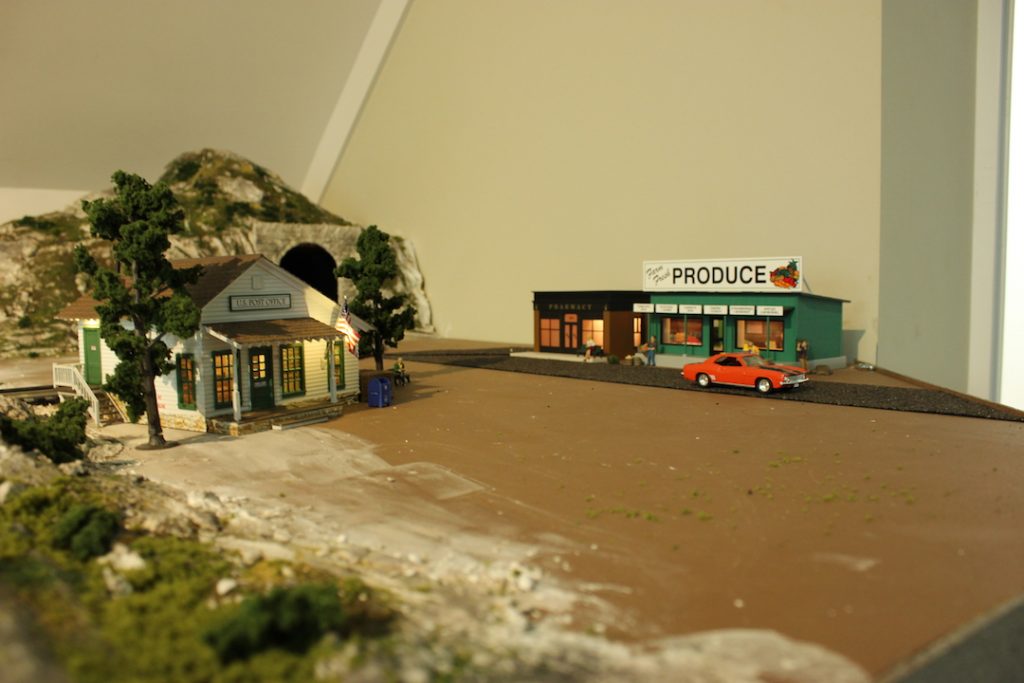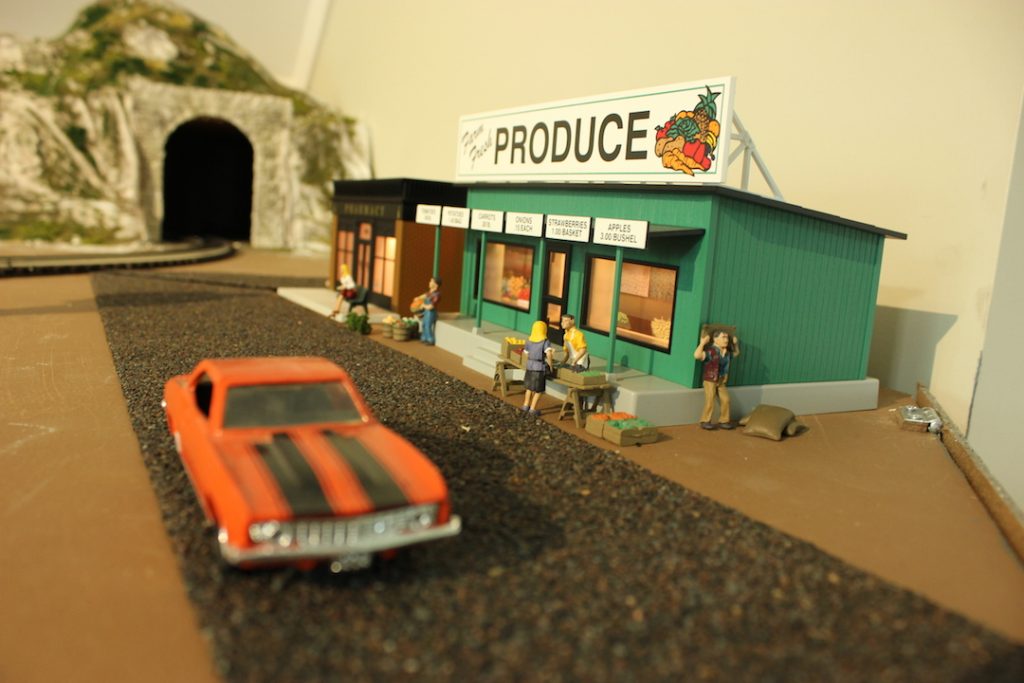 My modus operandi is to typically check eBay once a week for anything interesting that pops up – being a sucker for tunnel motors, an MTH Premier UP SD40T-2 caught my eye.  A little silly, as I already had a Lionel UP SD40T-2 that I picked up at a train show a couple of years back, but I was too tempted with MTH's version and the fact it had PS3.  I ended up winning the auction and am very pleased with the locomotive. After mulling it over, I decided to sell the Lionel SD40T-2 on eBay. I didn't quite make my money back, but it helped offset the cost of the new MTH version:
Side-by-side – Lionel in the foreground, MTH in the background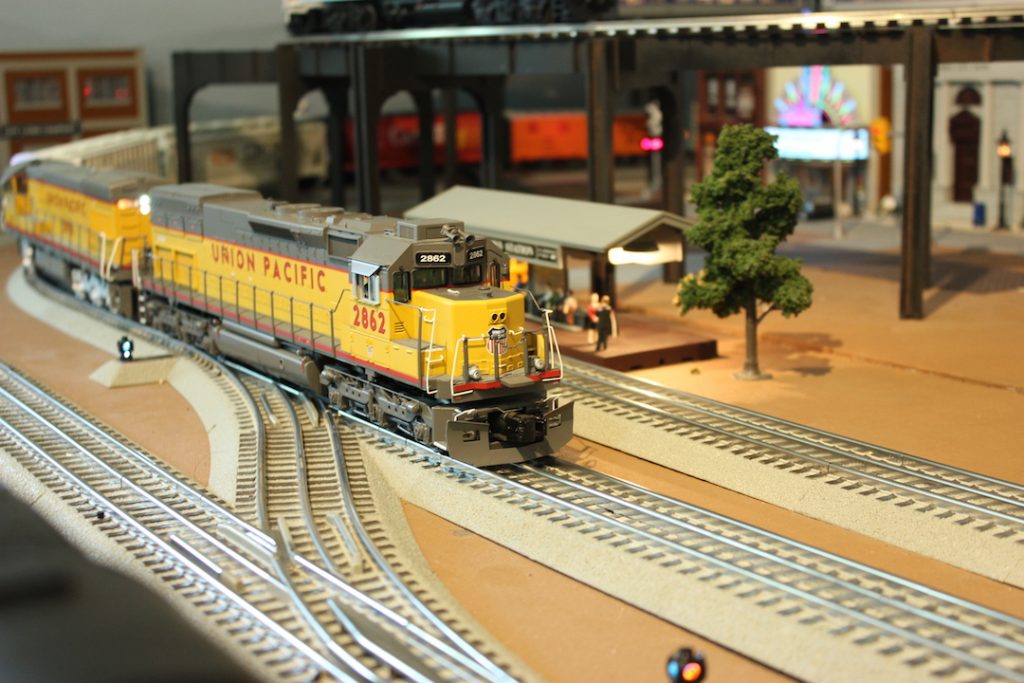 After having taken the Amtrak Crescent from Atlanta to NYC twice, I've been wanting to model the train we took up – unfortunately no O gauge manufacturers make Viewliners, which is what we rode in. MTH has however made Amfleet cars a number of times, so I picked up a set I had found on eBay, along with a modern Amtrak Mail car from trainz.com:

In June, the missus and I took a trip to Belgium and France with some friends and we had the opportunity to ride a variety of TGVs – we really enjoyed the experience, it's absolutely the best way to get around France! It's quite a contrast to our experience on the Amtrak crescent – in France we averaged 280km/h (173mph), whereas on the Crescent, we averaged 64km/h (40mph).
Thalys at Brussels Midi: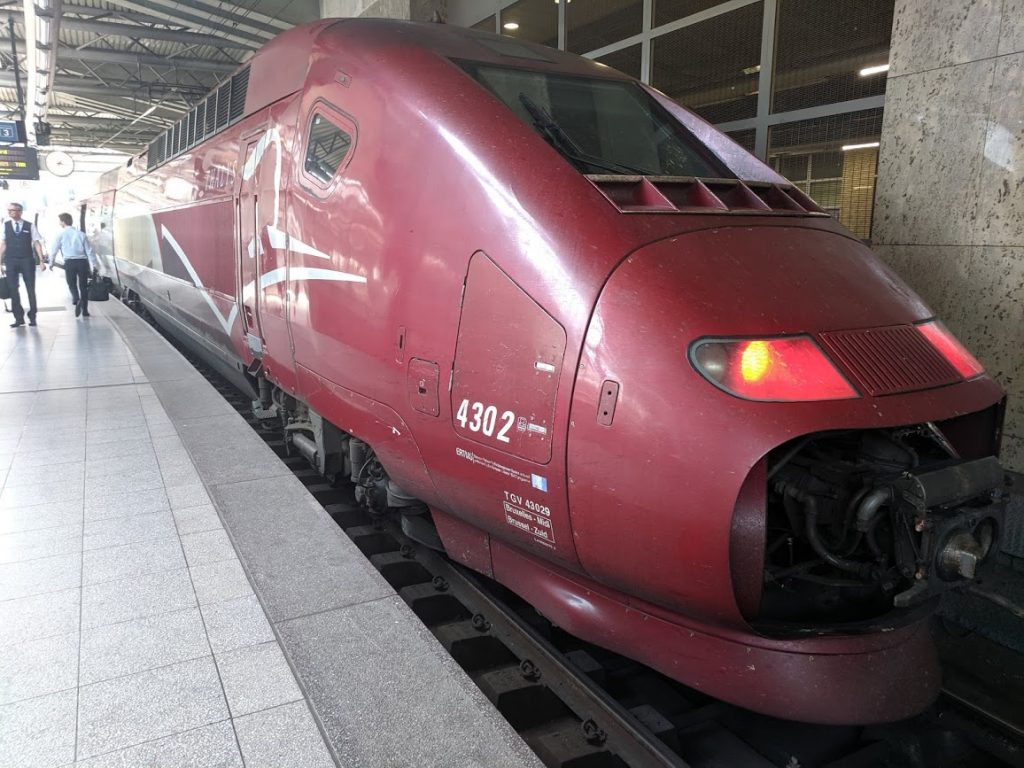 TGV Duplex and TGV Sud-East at Gare de l'Est in Paris: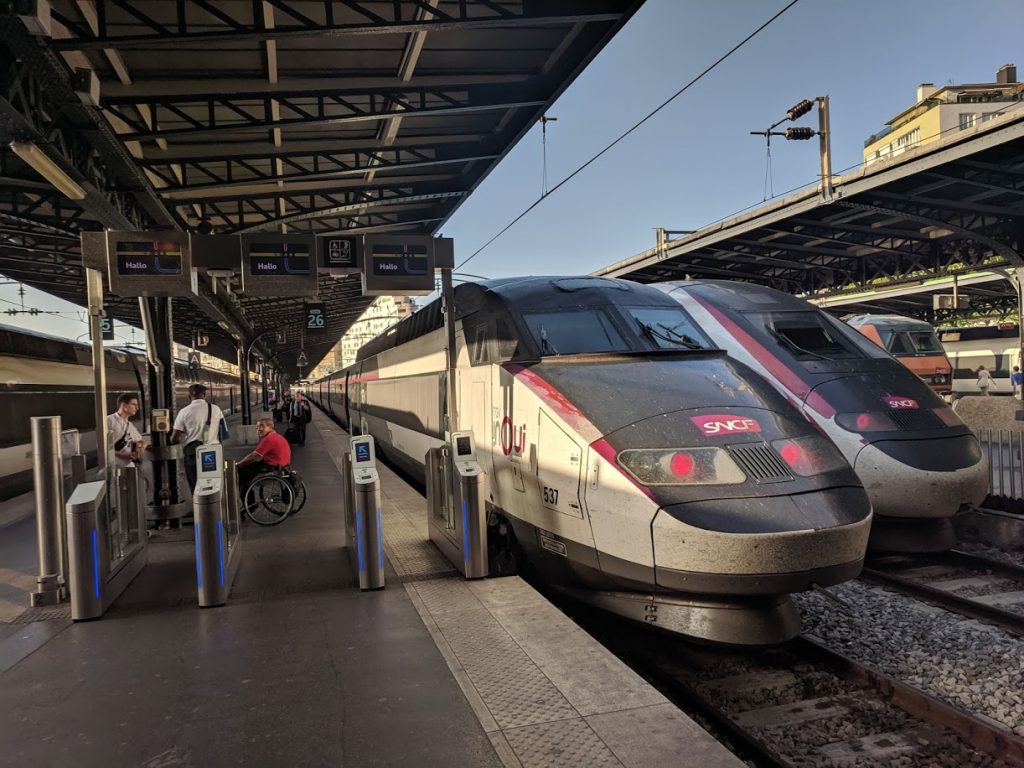 I would LOVE an O gauge model of a TGV – I'm keeping a close eye on MTH's European lineup, but I don't have my hopes high. I may use it as an opportunity to get into N-Scale (I've been toying with the idea of a coffee table layout), as Kato makes a number of versions. Additionally, Kato also makes the Amtrak viewliner passenger cars, which are super tempting!